AX Series Spring Making Machine
Computer Controlled Spring Making Machine
The AX series of computer controlled low-cost high-performance spring making machines comprises 3 models:
AX-3 for wire range 0.05 – 0.3mm.
AX-10A for wire range 0.2 – 1.0mm.
Ax-20A for wire range 0.5 – 2.00mm.
AX Series Spring Making Machine Features
You can customize AX as you wish with numerous optional accessories.
The AX has 8 slide bases which can be installed at any angle around the circular forming table in order to gain maximum forming capability.
The machine is equipped with Feed, Cam and Rotary Wire Guide axes as standard.
3 optional servo spinner units and 2 optional Servo Linear Units can be easily added to make the AX an 8 axis machine.
All of the above features are available as optional accessories.
Eight cam shafts drive the forming slides which can be installed at any angle around the circular forming table. (patent pending)
Eight cam shafts and slide bases are supplied as standard.
Single and twin cams are available and these are exclusive to the AX series.
The slide layout can be changed simply by altering the mounting position on the slide base for tool holders and servo drive unit. (Cut holder, Tool holder A and B, U Attachment holder (1pc. of each) are equipped as standard.)
AX-20: Maximum slide stroke is 67mm. This AX-20 machine provides wide space around the wire guide enhancing forming capability.
Rotary wire guide is supplied as standard and the forming capability is substantially enhanced by using the rotary wire guide in comparison with a quill as it has higher rigidity than a quill and the separation of the rotary wire guide into two parts prevents jamming of the wire and provides easy access for maintenance purposes.
The AX-20 wire guide is compatible with that of the MX-20 and the distance between the surface of the circular table and the tip of the rotary wire guide is 90mm – thus enabling easy forming of springs with long legs.
Twin cams with retraction levers are available as options for high-speed production (1 twin cam with retraction lever for the cut axis is supplied as standard).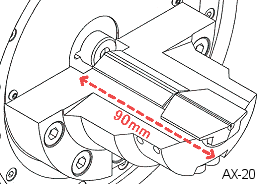 Servo Spinner Unit and Servo Linear Unit are available as optional equipment for complex operations.
Retractable Lever and Twin Cam are available for high-speed production. (1 set of Retractable Lever and Twin Cam for Cut axis are equipped as standard.)
The computer unit is separate from the machine body.
The AX's computer uses the latest Pentium Processor and Linux Operating System.
The computer display is TFT color liquid crystal display.
A mouse and keyboard are supplied as standard with the computer. The mouse facilitates the creation and editing of programs.
The program is backed up simultaneously on the USB flash drive.
Slide Base & Cam Shaft
(8sets standard)
Tool Holder A
(1sets standard)
Tool Holder B
(1sets standard)
 
 
 
U Attachment Holder
(1sets standard)
Retractable Lever & Twin Cam
(1sets standard)
Body Swing Holder
 
 
 
Spinner Head
Swing Spinner Head
Servo Spinner Unit
 
 
 
Servo Linear Unit
 
AX-3
AX-10A
AX-20A
Wire Diameter
0.05-0.3mm
0.2-1.0mm
0.5-2.0mm
Feed
Min. Increment
0.01mm
0.02mm
0.02mm
Motor Rated Output
200W
1000W
2600W
Cam Axis
Min. Increment
0.05
0.05
0.05
Motor Rated Output
200W
1000W
2600W
Rotary Wire Guide
Min. Increment
0.1Degree
0.1Degree
0.1Degree
Motor Rated Output
100W
100W
750W
Pneumatic Solenoid Valve
4pcs.
4pcs.
4pcs.
Peripheral Device Control
12ports
12ports
12ports
Power Requirement
3 Phase
5A
20A
20A
Machine Dimensions
Height
1510mm
1660mm
1880mm
Width
670mm
810mm
1080mm
Depth
555mm
860mm
1220mm
Weight
400kg
560kg
1100kg
Computer Dimensions
Height
1600mm
1600mm
1600mm
Width
540mm
540mm
540mm
Depth
540mm
540mm
540mm
Weight
210kg
210kg
210kg
Installation Area
Width
1825mm
1825mm
1825mm
Depth
2500mm
2500mm
2500mm
AX-3
AX-10A
AX-20A
Spinner
Min. Increment
0.001
0.001
0.001
Motor Rated Output
30W
100W
400W
Linear
Min. Increment
0.001mm
0.01mm
0.01mm
Motor Rated Output
100W
200W
400W
| | |
| --- | --- |
| CPU | Pentium Processor |
| Program | 2000 Steps |
| Program Storage | USB flash memory & 3.5 inch FDD |
| Display | 15 inch TFT Colour LC Display |
| Operating Temp | 0 – 45 degree |