MCS Series Spring Making Machine
Computer Controlled Spring Making Machine
The proven MCS series machines have been in existence since the first MCS-15 was released in 1977 and, in response to their popularity, have been constantly developed and improved up to the present day.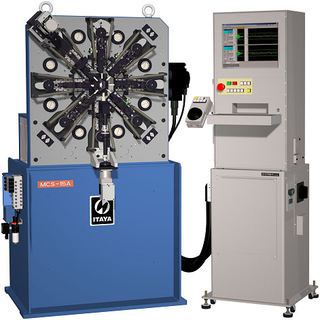 MCS Series Spring Making Machine Features
The servo mechanism and computer system have been optimized to enable the MCS series to offer easy operation and high-speed production.
Total of 5 axis, Feed axis, Cam axis, Rotary Wire Guide and 2 sets of Servo Slide axis are equipped as standard.
Servo slides can be altered to spinner or linear types by simply changing the combination.
All tools, cams, slides and attachments are common to all MCS series machines.
The Image sensor can be installed on the latest computer as an option.
MCS-4A
MCS-8A
MCS-10
MCS-15A
Forming Capability
Wire Diameter
0.05-0.4mm
0.2-0.8mm
0.2-1.0mm
0.4-1.5mm
Pneumatic Solenoid Valve
4pcs.
4pcs.
4pcs
4pcs.
Peripheral Device Control
12ports
12ports
12ports
12ports
Power Requirements
3 Phase
5A
5A
15A
15A
Machine Dimensions
Height
1420mm
1440mm
2011mm
1640mm
Width
880mm
823mm
1300mm
1001mm
Depth
630mm
625mm
810mm
750mm
Weight
420kg
530kg
1050Kg
890kg
Computer Dimensions
Height
1600mm
1600mm
N/A
1600mm
Width
540mm
540mm
N/A
540mm
Depth
540mm
540mm
N/A
540mm
Weight
210kg
210kg
N/A
210kg
Installation Area
Width
1400mm
1400mm
1700mm
1700mm
Depth
1500mm
1500mm
2000mm
2000mm
MCS-4A
MCS-8A
MCS-10A
MCS-15A
Feed
Min. Increment
0.01mm
0.02mm
0.01mm
0.02mm
Max. Speed
69.7m/min
112m/min
112m/min
112m/min
Motor Rated Output
200W
1000W
2000W
Cam
Min. Increment
0.05deg.
0.05deg.
0.01deg
0.05deg.
Max. Speed
273rpm
375rpm
375rpm
Motor Rated Output
200W
1000W
2600W
Rotary Wire Guide
Min. Increment
0.001
0.1
0.01
0.1
Motor Rated Output
50W
50W
400W
Servo Slide
Min. Increment
0.001
0.001
0.001
Motor Rated Output
50W
50W
400W
| | |
| --- | --- |
| CPU | Pentium Processor |
| Program | 2000 Steps |
| Program Storage | USB flash memory & 3.5 inch FDD |
| Display | 15 inch TFT Colour LC Display |
| Operating Temp | 0 – 45 degree |