RS-8 Spring Making Machine
Computer Controlled Spring Making Machine
The RS-8 computer controlled low-cost high-performance machine with rotary wire feed.
The basic specification can be enhanced and customized with various optional accessories, according to your requirements.
The RS-8 is the closest successor to the proven MCS-8.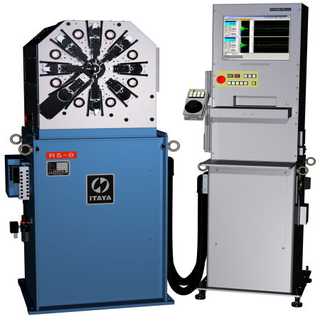 RS-8 Spring Making Machine Features
Rotary wire feed and rotary wire guide mechanisms enable easy forming of complex parts without changing the position of holders.
The machine is equipped with Feed, Cam, Rotary Wire Guide and Rotary Wire Feed axes as standard. 2 optional Servo Spinner and Servo Linear Units can be easily added.
Tools and Cams are compatible with those of the MCS-8 type machines. ( The rotary wire guide is compatible with those of the MCX-10 and AX-10 for controlling long-legged springs).
The image sensor can be installed on the latest computer as an option.
RS-8
Forming Capability
Wire Dia.
0.2-0.8mm
Peripheral Device Control
12ports
Power Requirements
3 Phase
15A
Machine Dimensions
Height
1490mm
Width
670mm
Depth
820mm
Weight
500kg
Computer Dimensions
Height
1600mm
Width
540mm
Depth
540mm
Weight
210kg
Installation Area
Width
1350mm
Depth
820mm
RS-8
Feed
Min. Increment
0.02mm
Max. Speed
112m/min.
Motor Rated Output
750W
Cam
Min. Increment
0.05deg.
Motor Rated Output
800W
Rotary Wire Guide
Min. Increment
0.1deg.
Motor Rated Output
200W
Rotary Wire Feed
Min. Increment
0.1deg.
Motor Rated Output
2400W
Spinner (Optional)
Min. Increment
0.001
Motor Rated Output
50W
Linear (Optional)
Min. Increment
0.01mm
Motor Rated Output
100W